6. Stan Van Gundy-$35 million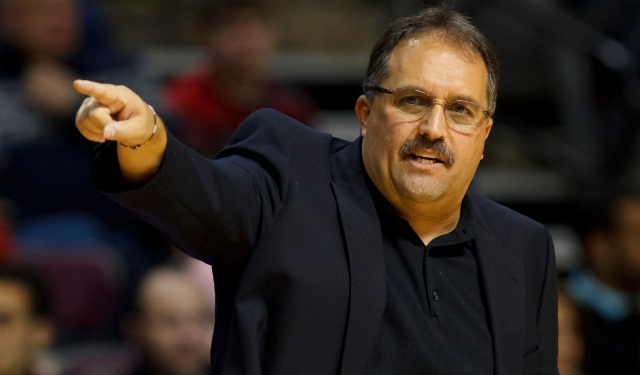 Unlike many, he didn't have a career playing basketball, but he has coached the game as long as many others have had careers in the industry and that too with one of highest NBA coach salaries. Gundy started his professional career on 1981 in Vermont as an assistant coach, he then on 1983 went on to Castleton as a head coach. On 1986 he was recruited for Canisius and Fordham as an assistant coach.
On UMass Lowell, however, he was the head coach, only to go on 1992 to conquer Wisconsin, first as an assistant, and then as a head coach in 1994 to 1995. Because when he left Wisconsin he was an assistant on the Miami Heats and on 2003 they turned him head coach until 2005. He also has 2 times head coach for the NBA All-Star Game under his belt, on 2007 he went to Orlando Magic until 2015 because he is since then president and head coach of the Detroit Pistons. This NBA coach salary sums up to $35 million dollars and for 5 years.
5. Tyron Lue-$35 million
His professional career started when he was drafted by the Denver Nuggets, only to be recruited for the L.A. Lakers. In the same year where he won two NBA Championships in his first three seasons only to then jump onto the Washington Wizards from 2001 to 2003. When he then went on to Orlando Magic, Houston Rockets, Atlanta Hawks, Dallas Mavericks, Milwaukee Bucks and ended up back in Orlando Magic in 2009.
From then on he coached the Boston Celtics as an assistant, in 2014 he went to Los Angeles Clippers for a year and in 2014 he was recruited for the Cleveland Cavaliers as an associate head coach. And in the season of 2015-2016, he led the team to their very first NBA Championship, earning the respect of all as one of the few rookie coaches to ever achieve leading his team to a title. Now he continues as the head coach of the Cleveland Cavaliers with a contract that presumably is worth $35 million dollars for 5 years and possibly more to come.